From Our Soundbooth |
May 26, 2016
Celebrating Short Story Month: Karen Russell's "St. Lucy's Home for Girls Raised by Wolves"
May is National Short Story Month, and here at the Missouri Review we love our short stories. That's why we are thrilled to bring you a series of podcasts featuring our very own interns as they discuss their favorite short stories of all time. You can find more about National Short Story Month here.
In our last episode celebrating 2016's Short Story Month, TMR intern Mackenzie discusses Karen Russell's "St Lucy's Home for Girls Raised by Wolves."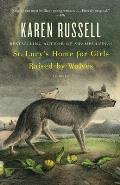 "St Lucy's Home for Girls Raised by Wolves" was first published in Russell's collection of the same name (2006) and is available at Powell's and other booksellers!  Tune in to hear Mackenzie exploring Russell's use of the supernatural in realist settings.  This isn't your average werewolf story!
Podcast conducted by Mackenzie Landa.
Did you know that you can now download the Missouri Review to your smartphone or tablet? Search for the Missouri Review in your app store. If you are already a digital subscriber, just sign in to the app with the e-mail address associated with your account.
[soundcloud url="https://api.soundcloud.com/tracks/265908543″ params="color=ff5500&auto_play=false&hide_related=false&show_comments=true&show_user=true&show_reposts=false" width="100%" height="166″ iframe="true" /]