From Our Staff |
September 18, 2008
List of the Week: "Our Favorite Bookstores"
Though the ongoing shift to online retailing may have radically changed the way many of us interact with bookstores economically, these emblems of literary culture still hold a powerful sentimental, social, and even aesthetic attraction for us. In this week's list, we invite you to share your favorite bookstores or memorable bookstore experiences, whether through a plug for a survivor who's still flying the standard for brick-and-mortar-and-people relevance or through an elegy for a bookseller lost.
1. The Hungry Mind (St. Paul, Minnesota)
In 1975, the music blasting out of 75 percent of the stereos on the Macalester College campus in St. Paul was Bruce Springsteen's Born to Run album.  Garrison Keillor's Prairie Home Companion was a new phenomenon on public radio, and all the Minnesota students listened to it (I was from out of state, and not impressed).  There were two bookstores, one near the corner of Grand and Snelling Avenues; I remember it as being called the Macalester Park Bookstore, but my memory isn't perfect.  The other was the Hungry Mind, just east of campus on Grand.  It had been founded five years earlier by Dave Unowsky ("Hungry Dave"), and it was everything an independent bookstore should be.
I'd fallen in love with the Twin Cities before I applied to Mac.  Once there, I fell in love with the school, the Grand Avenue neighborhood and, especially with the bookstore.  For four years, almost every book I bought was purchased at the Hungry Mind-and I bought a lot of books, ranging from Camus to A.A. Milne to Claude Levi-Strauss. The atmosphere was very '70s, intellectual and vaguely counter-cultural. Upstairs, if I'm remembering right, we could find our textbooks.  I knew a couple who met there and later married. Downstairs was a wall of literary magazines, something I'd not seen in bookstores before. I took a couple of semesters of creative writing from poet Alvin Greenberg, who required us to read a journal a week.  Some I must have found at the college library, but a lot I bought at the Hungry Mind, prompting Dave, the owner, to comment one day, "You go through those things like water." I think I'd found my niche.  TMR hadn't been born yet, or I might have been reading it, too.
The Hungry Mind offered an incredible selection and a chronic chocolate-box conundrum:  what to read next?  You could cash checks there, too. I spent one semester reading everything I was not supposed to and not attending any classes.  The bookstore was my accomplice in academic failure, which I later righted.  It was staffed by more men than women, including Dave and Jim Sitter (who later went on to direct CLMP, among other things) and my RA's boyfriend, another Dave. Intermittently I had mild crushes on all of them because they were young, longish-haired guys who read books.  I eventually married someone of that description.
Next year will be my thirty-year reunion, and I'm thinking of going back to St. Paul to see who else shows up.  Sadly, though, the Hungry Mind passed on in 2004.  By then the name had been sold in an attempt to keep it alive, and it was going by Ruminator Books-not really the same.          –Evelyn Somers
2. Brazos Bookstore (Houston, Texas)
As far as I can make out, Brazos Bookstore (http://brazos.booksense.com/NASApp/store/IndexJsp) is the only independent bookstore in Houston, Texas.  It was certainly the last of its kind when I came to know it first, in the late summer of 2000 (in Houston, by the by, late summer tends to stretch well into November).  It was a heady time to be sure. I had never before lived in a city that honestly deserved that designation, and I was beginning a master of fine arts degree at the University of Houston.  All of a sudden, I found myself in the midst of a few dozen really smart people who were just as crazy about reading and talking poetry and ideas as I was.  Brazos Bookstore, an immaculate nook looking out across Bissonett Avenue at Hair & Nails salons, tattoo parlors, and high end leather furniture stores, was our weapons cache.  Back when I roamed the shelves, Karl Killian was the owner and proprietor, a kind and savvy guy with a welcoming smile and an impeccable memory for someone who plays host to some of the biggest literary talent passing through Houston.  He's since moved on to become the event planner for another of Houston's cultural staples, the Menil Museum (http://www.publishersweekly.com/article/CA6346561.html), but Brazos has kept up its rep as a first-class stop for huge talent (http://brazos.booksense.com/NASApp/store/IndexJsp?s=storeevents) and a peerless encourager for the local talent and the young and gifted writers of the University of Houston's estimable Creative Writing Program.  It was one of the first places that I read poetry to a willing audience, and its incredible poetry section (then curated by the encyclopedic network of verse and culture that calls himself Michael Dumanis(http://www.umass.edu/umpress/spr_07/dumanis.htm; http://www.ysu.edu/neomfa/faculty.htm#dumanis) and its really has-to-be-seen-to-be-believed kiosk of literary magazines.  I wish I could say just how much it meant to me as a reader and a writer, but it shall have to suffice for me to call it one of the most powerful conduits to the other worlds of thought and feeling that great writing can introduce us to, and any time in the future I have the opportunity to cruise through Houston, it is on my list of destinations.  As of this writing, I'm still not certain of how it fared in the maelstroms of Hurricane Ike, but if I know my Brazos, it will take more than a hurricane to curb its literary enthusiasms.          –Marc McKee
3. Wonder Book and Video (Frederick, Maryland)
Wonder Book and Video served as the key ingredient for wooing attractive, bookworm members of the opposite sex while I was in high school.  The store was the most important a surprising number of small-town gems in the town of Frederick, Maryland.  From the Washington, D.C. suburb of Rockville, Maryland, the 20-minute voyage to Frederick was a passage through central Maryland's endearing rolling hills practically never crossed the mind of any city or suburb dweller, let alone a high-schooler.  I could always count on the obscurity of my dusty gem.  In addition to Wonder, the town also boasted an "antique furniture store" only accepting the most gaudy and unintelligible items I have ever witnessed – a small portion of a Frederick date would always include a gander at the shop's seven foot statue of a human nose, not to mention a similarly-sized pissing cherub holding a bow in one hand and a gun in the other. 
When we arrived at the bookstore I would always take them on a run through the stacks, just to accentuate the book glut of the place, the overwhelming smell that I'd buy as room spray, and the towering shelves that seems to disregard year in some strange Twilight Zone of American histories all alive at once.  In actuality, the store was about the size of a Blockbuster and a half, and probably less in ceiling height.  It was oddly shaped, and a lot of half steps between sections would often send books and their worms, fumbling through pages in a careless gait, tumbling.  The poetry section was half of a row, but it overflowed with collections and single works of the romantics, epic poets, and hundreds of hardback-print Shakespearian sonnets.  I would usually plan impromptu motions – I might whip out a Rilke, find a short poem I remember and start reading with a slight tonal sense of melancholy. The store became so connected to my image that when our history teacher showed up in a Wonder Book t-shirt the students accused him of copying my interests, even if he did actually live in Frederick.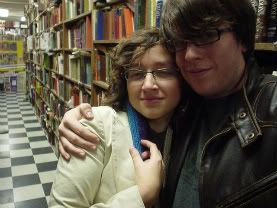 Every holiday I would buy my best friend a copy of a Count book, meaning a children's book based on the Sesame Street character the Count.  He would unwrap The Count Counts a Party, the fifth or sixth in the mix, and still laugh to tears before ever reaching for the more practical gift.   The last time I went to visit him, it was propped up on his dresser like a book store showcase piece.
After I got my license, the girl here was first person I took to see Wonder.  When we broke up, she started taking other boys to see the stacks, which made me as proud as I was jealous.          –Seth Graves
4. Green Trails Bookstore (Chesterfield, Missouri)
I cannot suggest any little known literary gems, no sacred spaces for bibliophiles. I can, however, tell a woebegone tale of a common fate: the small, independent, often unusually charming, neighborhood bookstore's descent into financial ruin.
In a nutshell, this hole-in-the-wall place, tucked inside an oddly designed network of businesses (including a music school, Domino's Pizza, and a hair salon out of the '80s), occupied a seemingly deserted plaza near a semi-suspicious gas station, was an adventure alone to locate (think labyrinth on a miniature scale). Green Trails Bookstore in Chesterfield Missouri,(wo)manned by an affable and knowledgeable staff–tried-and-true book lovers–offered new material at reduced prices, an Arcadia of children's literature, and used books stretching back to the 19th century.
The typical winding shelves and stacks of countless books created a waterfall effect that immersed its browsers, but the most notable feature was the completeness of its collection of literature, drama, and poetry. And better yet, the astonishing prices of masterpieces great and small. Fifty cents to two dollars for Kafka, Chekhov, Woolf–you name it. My favorite find was a hardcover pocket-sized edition of Hamlet printed in the 1890s priced at, brace yourself, one U.S. dollar!
As far as atmosphere goes, this treasure trove of mine was marked by the absence of noise–in many senses of the word–and, unfortunately for the livelihood of the bookstore and its potential bibliophiles, the absence of people.
And so the story goes.   –Robyn Allen
5. Prairie Lights (Iowa City, Iowa)
Any list of bookstores must include the legendary Prairie Lights (www.prairielights.com). It has a great deal to offer, starting with knowledgeable and passionate staff-Paul is always ready to help visitors select the perfect book. Their reading series, "Live from Prairie Lights," always astounds me. Local, national, and international authors flow through the independent bookstore with the regularity of the Iowa River streaming through the University of Iowa campus. And the coffee shop is a great place to hang out, write, and meet other writerly-minded friends.          –Richard Sowienski
6. Open Books (Seattle, Washington) and Politics & Prose (Washington, D.C.)
When I'm in Seattle, I like to visit Open Books: A Poem Emporium, which is one of the few poetry-only bookstores in the country.  It is a small bookstore in Wallingford, but as volumes of poetry tend to be slim, they have an impressive selection. I've never gone there and not found what I'm looking for.  They have a frequent-buyer card system, where you get a free book after you purchase a certain amount, and the best part is that they keep those buyer cards on file for a couple of years-so poets who are scattered across the country have plenty of time to find their way back to the Pacific Northwest.
When I'm home in DC, I like to go to Politics & Prose.  First of all, Politics and Prose has a great atmosphere-it's spacious, sunny, and has a nice café in the basement with delicious food.  Second of all, P&P is one of those bookstores where every book seems carefully chosen, so that no matter what you pull of the shelf, it's bound to be quality.  I like how they support the local writing scene, and also, I am a sucker for their "remainders" shelf, where you can get brand name authors at discount prices.          –Katy Didden