Dispatches |
July 05, 2016
Summer Reading: The Grotesque and the Feminine
Today, the Missouri Review presents the fourth installment of the Summer Reading series, a series designed to provide recommendations for summer reads from authors and Missouri Review staff members.  This installment is written by Missouri Review Poetry Editor Leanna Petronella. 

I'm about to enter my fourth year in my PhD program, and as such I'm reading for my comprehensive exams. As part of these exams, I write essays, and one of my essays is about the grotesque as an aesthetic in poetry. Reading about the grotesque is as delightful and repulsive as you might imagine. I've been reading Mikhail Bakhtin's Rabelais & His World, where Bakhtin analyzes Rabelais' Gargantua & Pantagruel. Rabelais' novel, written in the sixteenth century, follows the adventures of two jolly giants as they fart, pee, defecate, and otherwise smear their bodies over the French countryside. In his study, Bakhtin introduces the "carnivalesque," an important aspect of the grotesque that emphasizes the boisterous breakdown of hierarchies. Another book which I particularly enjoyed is Gurlesque The New Grrly Grotesque Burlesque Poetics, a poetry and visual arts anthology edited by Lara Glenum and Arielle Greenberg. The book begins with Greenberg's devastatingly hip essay about how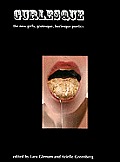 she and Glenum coined the term (grotesque + burlesque + riot grrrl), and if I ever get to write literary criticism as exuberant and naughty as this, I will be pleased (an excerpt: "Take the girly. Shake it up. Make a milkshake. Make it throw up"). Glenum follows with a more traditional essay, giving context for this wild, ravenous, visceral aesthetic found in a certain camp of contemporary women poets. The anthology itself includes poets such as Ariana Reines, Brenda Shaugnessy, Catherine Wagner, and Sarah Vap. There's also a spread in the middle of the book with examples from the gurlesque visual arts (my personal favorite is a sculpture by E.V. Day of a clam shell with a tongue in it, a pearl resting neatly on its tip). Some other texts on the grotesque (especially the female grotesque) that I'd recommend are Mary J. Russo's The Female Grotesque: Risk, Excess and Modernity (spectacle as an especially female danger!) and Donna Haraway's "A Manifesto for Cyborgs" (defeat the patriarchy with cyborg feminism!).
Leanna Petronella's poetry can be seen in Beloit Poetry Journal, CutBank, HTMLGIANT, La Petite Zine, ElevenEleven, and other publications. She received her M.F.A. from the Michener Center for Writers at the University of Texas and is currently pursuing her doctorate at the University of Missouri. She is the Poetry Editor of The Missouri Review.