Don't Quit Your Day Job
By Michael Nye
As a young writer and also a current college student, I often think about the business of writing and how best to prepare oneself for a writer's life. Rachel's post about the Flannery O'Connor quote and the way experiences translate to our writing got me thinking about the career choices we make as writers. I've read a lot of bios in the back of books and literary journals, and I realized recently that rather unintentionally I've divided these people into two camps in my mind: writers and people who do others things who also like to write.
Years ago, in the infancy of my interest in this field, I'm sure I would have scorned that latter category of people who chose to have another career, another passion, before or in addition to the writing life. How dare they divide their attentions between writing and…anything else? For a true writer, what else could there be?
But over the years, I've come to realize that there are plenty of excellent writers who take their profession and use it to fuel their passion. Living, then, is a source of inspiration, even in the working world where we may feel most lifeless.
Immediately I think of Herman Melville, who was a sailor for many years before he began to publish his stories, inspired and informed by his years at sea. Ernest Hemingway served as an ambulance driver during World War I, which later lead to the writing of A Farewell to Arms. More recently, authors like John Grisham and Kathy Reichs have found commercial success by writing about their working worlds – criminal defense law and forensic anthropology, respectively.
"But wait," you say, "those jobs are interesting. How am I supposed to draw inspiration from my job as a toll booth operator/trash collector/assembly line worker?" (Do we even have those anymore? Aren't all assembly lines managed by robots now?)
John Steinbeck worked as a fruit picker for a while prior to his publishing of The Grapes of Wrath. Mark Twain (or Samuel Clemens, as he was known then) was a steamboat captain on the Mississippi River before he created Tom Sawyer and Huckleberry Finn. Charles Bukowski wrote a number of poems about his time in the employ of the postal service.
New England janitor Stephen King spent endless hours spent wheeling a mop cart through the halls of an empty high school, which eventually inspired him to write the opening girls' locker room scene for a novel called Carrie.
So there.
As wonderful as it can be to spend all of your waking hours surrounded by other academics and people who love literature, or just sitting in front of your computer typing up a new chapter (or cooking, or scrolling through Facebook, or playing with your dog – whatever it is you do when you're supposed to be writing) I would like to propose that there is great merit in being inspired by the world through your own unique experience. We are shaped by the strange and wonderful things that happen to us on any given day, and it is these experiences that strike the match of inspiration for the stories we tell.
What kind of jobs have you had that inspired you? Any weird stories to share that turned into to a work you love? Divulge your trade secrets in the comments below!
Once, I Sold Books
I was hiding in the backroom again, perusing the new shipment of Harlequin Romances and giggling with a co-worker over the titles. My favorites always involved secret babies born to millionaires, who for all their money could not be bothered with birth control, and had to either win the woman who bore them back into their lives, or hire women to take care of the children. Love and thrusting genitals inevitably occurred.
Am I the only one who finds the title and cover really inappropriate?
I hid in the back room often. There was a man who had been assaulting our store continuously over the past several months, leaving Maxims in the Children's department with the centerfolds faced-out over copies of Pat the Bunny and the Hungry Caterpillar, and touching himself in various corners. We'd had two complaints about him – a young woman about my age, saying that he had thrown his semen on her, and then a young girl of about seven who said, her face pink and wet, that he had done the same. Because I was seventeen at the time but looked younger, my managers told me I should escape to the backroom whenever I felt nervous around the male patrons. One had even given me a two way radio to report suspicious behavior, but after a few half-hearted, static attempts I gave up and claimed I felt safer behind the locked door. I often simply did not want to stock the magazines, my primary job.
I always thought it would be a magical occupation, surrounded by books and people who liked to read. In my interview, even though they wanted someone older (you had to be eighteen to work the cash register) I promised I would work hard, because I wanted that twenty-percent discount miserably bad. In many ways it was magical, except for the customers.
There was the one man who came in asking for every book written by Proust. Every translation, every biography. I printed off scores of lists and watched him painstakingly examine each title, shrugging when he asked me my opinion. There was another man who asked that I save copies of Playboy for him (he always bought two, one to read and one to collect) and had to stand over him while he shook their plastic coatings and made sure there were no indentations or bends in the page. Another would wander in late at night, make a mess of the Astrology books, and tell me he could forecast my future. He has yet to be correct. There were always those who purchased The Da Vinci Code and were astounded that I had not read it, and then complained that it was, as of then, not out in paperback.
Hint: If you stop buying it, it'll come out in paperback faster. 
 Once, a woman came in and asked me for a copy of Oprah's latest book.
"Anna Karenina?" I said.
"I guess."
I handed her a copy.
"No," she told me. "Oprah wrote it."
I handed her a copy with the Oprah Book Club sticker on the front. She beamed and bought it.
Then there were the athletes of a certain retail type, the kind who saved their sport up for weeks in their colon, and let it loose in a rage all over our public bathrooms. That's when my favorite manager would rush into the backroom, her eyes wide, saying that we'd had another Olympian Shitter, and our only male manager (it was always the men's bathroom) would sigh, grab his pack of cigarettes, and go outside to get the hose.
After the man who assaulted our store had been caught – he was not terribly clever, as he always wore the same necklace and hat, and my male manager stalked him through the store, notified the police and, if memory serves, ran outside after him and got his plate information – I wasn't allowed to hide in the back as much, and so to avoid alphabetizing the perpetually messy categories (Religion, Hobbies, Transportation) I learned the value of extending out shelving the magazines as long as possible.
"Be careful," the woman who trained me on the job had told me. "Once I reached in to clean the rows and found a used condom."
It was a Books-A-Million, a Southern based store perpetually out of place in the Chicago Suburbs, where even though no one wanted a copy of Southern Living we always received hundreds. I was not allowed to send them back before their return date. This lead to creative shelving and, when I was frustrated enough by Paula Deen's omnipresent face, I would sneak issues to where I knew the security cameras could not see me and rip the covers, the only acceptable reason for sending anything back early.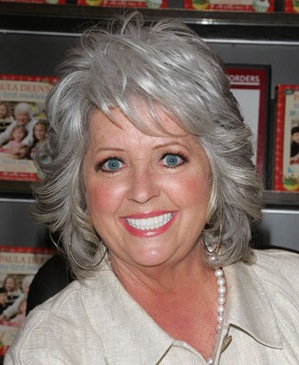 Sorry. 
Books-A-Million loved its magazines. There was a row as long as the bookstore was wide filled with anything you could possibly be interested in: Twenty different versions of Model Plane Monthly, Beanie Baby Collector, Cooking, A whole unit devoted to guns (and the women who love to pose with them), Home Décor, Weddings, News and Propaganda were shelved together, and a small but large, considering, section of literary magazines. We never had copies of the Missouri Review, but we would get The Kenyon Review and Tin House, occasional copies of the Virginia Quarterly Review, and a handful of others. Sometimes I would play a game to see how often Joyce Carol Oates appeared in an issue, which eventually lead me to her collections and novellas. At night, when only one manager worked and they were often in the backroom doing "paperwork", I would hide in a corner and read.
Teenage naiveté, perhaps, led me to believe that the product you sell will entice a certain kind of person into your establishment, but open doors, open seats and an open bathroom will lead anyone in, for better or for worse.
There was an old man with a pierced tongue who wore a green hat and a green jacket. He used to watch me shelve the magazines. He would turn his body to face mine as I passed him. He would stand with a slightly hunched back and pick up a magazine and glance down and look at me for hours three times a week. He would not leave until he muttered a hello, and even though I felt a particular ache in my spine to run, I was required to say hello back. I looked forward to his stumbling hello's, knowing that after he would leave. When I aged to the register, he would wait until my line was open and purchase a Times magazine or a newspaper. I always smiled, because my smile was bought and paid for seven dollars an hour, and asked him if he wanted to buy a discount card. He never wanted to buy a discount card.
Still, once, I remember very clearly, a young father came in and asked me if I knew anything about fantasy. His son was into dragons and knights and magic, and he wanted something they could talk about. There was in him a yearning for connection with his own blood, something that, when broken with the abstract language we communicate in, can still be heard and understand when we share stories. I led him to the back wall and picked out my favorite books from my childhood: Dragonlance novels, the ones by Margaret Weis,  that I used to read in my bedroom to the light hours of the morning and yawn through the next day.
"Do they have happy endings?" he asked me.
"No," I said. "Not really."
He lifted the book to his face and half-smiled and said he would take it. A week later, he came in and bought several more. Three years after I stopped working there, after I had gone on to graduate school, the bookstore went South for the winter, and locked its doors.
How I Became The Managing Editor at TMR
With the end of the spring semester, there is a new batch of freshly minted graduates of the University of Missouri. Which means there is a new batch of anxiety about what to do after graduation. Around our offices, the bulk of our graduating students have majored in English, and have aspirations of working in publishing, or being writers, or teaching (often abroad, or anywhere that isn't Missouri), or some other nebulous concept that revolves around the printed word. All the excitement of finally graduating college and, for the first time since kindergarten, not having to go to school of gives way to the existential question of "Okay, now what?"
Weirdly, the anxiety isn't all that different from graduates of MFA programs. These graduate students are inherently older, some by a few years, some by many years. And being a bit older, there are often other more complicated factors: careers put on hold or new careers started; family to consider, whether its your own parents or being a parent; envy of your friends that might have gone to the "real world" and are already having children and paying off home mortgages; life as an adjunct—even if a temporary one—staring you in the face.
A few months ago, I wrote about the "off-year" from undergraduate to graduate school, which for me became three years not one. All that still holds. But that just got me from one degree to the next. What about after that? One of my friends who works as an editor at one of the Big Six publishing firms told me that no one every grows up wanting to be an editor (I wonder if that's true, actually, but another time on that topic …). I've had a few conversations with students who have wondered how I got this position with The Missouri Review, maybe out of politeness, maybe out of genuine curiosity. How, exactly, did I end up here?
My first experience with literary magazines was in graduate school. Natural Bridge, out of the University of Missouri-St. Louis, is primarily student run. There is a rotating "guest editor" made up of the faculty on the MFA program, a managing editor who is a graduate student, and then a class ("Literary Journal Editing" is what I think it's called) made up of graduate students who read all the manuscripts. I took the class because my friends were also taking the class and I got to read a bunch of stories. That was it!
Anyway, post-literary editing class, I thought reading manuscripts was fun, and wanted to keep doing it. Sophisticated thought process, right? I applied for a job at River Styx, a magazine out of St. Louis that was looking for a managing editor. It was a part time job, three days per week, twelve hours only … and I didn't get the job. So, instead, I volunteered to read fiction manuscripts. Six months later, the managing editor quit, and Richard Newman, the magazine's long-time editor, offered me the job, which I did for five years.
River Styx isn't a big shop: it's the editor, the managing editor, and a bunch of volunteers. And it was awesome. We were on the twelfth floor of a building that was a hodgepodge of city services. Arts organizations like River Styx shared a large open area on the twelfth floor: we were up there with the Bach Society, Springboard for Learning, Dance St. Louis, and a few organizations that had signs on the door but never seemed to have anyone there. The windows rattled on windy days. Once, the toilet overflowed ("geysered" seems like a better word), flooding our floor and the elevator shafts. We had used furniture. There was a smell.
Magazine editors do more than read manuscripts, a fact that now seems really obvious to me, but at the time I started with River Styx, I didn't really know. There is the editing of the manuscript: most don't come to any magazine perfect, and they all need copy edits, line edits, sometimes even developmental edits. Interns and volunteers need work to do: they need to be assigned tasks, and the person assigning those tasks (read: me) better know how to evaluate if the work is done right. Lots of mail: manuscripts, bills, taxes, query letters, withdrawals, requests for donations. I wrote grants, and discovered how that world works. Board meetings. Printer issues. The postal service. Distribution. Manuscripts got read when they could, but there was so much more that goes into running a magazine and keeping it relevant, keeping the world interested in you, then I realized. And I'm leaving a ton of stuff out.
All this while trying to write stories and my novel and teaching three classes per semester between Missouri-St. Louis and Washington University. Which is, to state the obvious, not nearly as hard as many other people have it.
Five years later, River Styx was in new digs at the Centene Center, and both dealing with the exact same issues and stronger than ever. My girlfriend and I made the move to the University of Missouri, one hundred miles west, for her to enter graduate school. My plan? To continue my adjunct teaching in St. Louis during the week, then drive back to Columbia on the weekend, and keep this up until I found something full time in my new town.
From my years in St. Louis, I knew quite a few poets and asked them who they knew in Columbia, who I could look up and say hi to. Oh, yeah, they said: look up my friend Katy Didden. Oh, yeah, look up my friend Darcy Holtgrave. Which I did, getting over my anxiety about emailing a total stranger out of the blue and asking if we could get a cup of coffee. Five minutes into that conversation, explaining who I was and what I was about, I was told that the managing editor at the Missouri Review had just left.
Whoa.
This might have been the easiest job letter to write ever. Dear TMR: I live in your town! I just moved here! Your people told me about the job! I love your magazine! I have experience! Lots! You should hire me, like, today!
And come January of 2010, I was TMR's new managing editor.
This is a blog post, and a brief one (for me, at least), and there are about a hundred other things that happened over the course of those six years that got me here. But one of the things that I want to stress, that I've stressed to my students that have asked "How did you get here?" is that I had no plan. Really. It really came down to liking to read stories. Stories were found in manuscripts; manuscripts were mailed to journals; journals need staff. I didn't want to write grants, manage a staff, think about circulation, fund raising, stuff like that. I just wanted to read. Discovering that all that other stuff is actually pretty interesting to (despite any groaning and moaning I might make on any given Tuesday morning) was accidental.
There's not a road map. As a neat, organized person, I'm not always comfortable with this idea but it's what I've found to be true over the last few years. Follow your passion, and things work out. Probably some Zen Buddhist stuff in there, but, well, you know.
I'm not sure where many of our current editors and interns who are leaving us will end up. They probably don't know either. What I stress to them is to keep in touch—I can't emphasis this enough—and to get involved in the literary community wherever they are. Maybe there's a job. Maybe there's an open mic, a reading series, a good bookstore. Whatever it is, come to it with enthusiasm, generosity, and true interest. You never know where it will lead.
Follow Michael on Twitter: @mpnye